Posted in
News
,
Scholastic
on December 20th, 2005 by Nevada Chess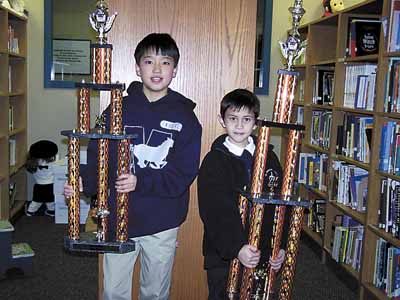 Up against tough competition from schools with a long tradition for playing the game, nine pupils from The Meadows School held their own at the U.S. Chess Federation 2005 National K-12/Collegiate Championship Dec. 2-4 in Houston.The five-member second-grade team finished second in the nation for its grade level, in a field that boasted 21 teams. In the team competition, the three highest scores determine the team's score. The Southern Nevada team finished a half-point behind the 11-member second-grade team from New York City's Dalton School, where Josh Waitzkin was once a student. Waitzkin's journey to his first national championship was portrayed in the 1993 movie "Searching for Bobby Fischer." The Meadows team also finished ahead of Hunter College Elementary School in New York, which offers a chess course as part of its curriculum.
The second-grade team members are Michael Baldyga, Alex Agrawal, Parker Sachs, Beau Capanna and Asia Thomas.
In addition to the second-grade team trophy, several other pupils from The Meadows School achieved individual accomplishments at the tournament. The individual competition consisted of each player competing in seven rounds, one game per round.
Michael Baldyga, 8, won the second-grade championship, which had 116 entrants. He was the first pupil from The Meadows School to win a national title in chess since Patrick Hummel won his fifth straight championship in 1999. Michael's brother, Alexander, also finished first in the under 1,000 (points) kindergarten level and 12th in the nation in the overall kindergarten level.
Alex Agrawal also did well in the second-grade level, tying for 11th in the nation.
Richard Lee, 12, tied for second in the sixth-grade level competition, which had 166 players.
Dan Conver, The Meadows chess team coach, began coaching children at the school 10 years ago. Conver said chess players Richard and Michael, in particular, have "unlimited potential."
Christina Baldyga, Michael and Alexander's mother, credits Conver for the chess team's success. "He is a really amazing coach," Christina said. "He spends so many hours with the kids and gets them motivated."
Richard, who began playing chess four years ago after it was suggested to him by his parents, Duncan and Irene Lee, plays because he finds it fun and "I like to win."
The Lees thought their son might be interested in chess because it would be a challenge.
Michael has been playing chess for almost three years, ever since Christina and Mark Baldyga signed him up for the chess program at The Meadows School.
"I am really happy for Michael," Christina said. "He works very hard."
In addition to their coaching sessions with Conver, both Michael and Richard play chess against adults with the Clark County Chess Club that meets at University Medical Center.
"Richard has been playing there for eight or nine months, and he is not intimidated," his father said.
Richard enjoys playing against the adult chess players in the club.
"It's fun because sometimes I beat them, and they're better than me," Richard said. He will compete in the North American Open tournament at Bally's at the end of this month.
Michael's mother believes he also has benefited from the experience against adult players.
"The time playing with the adults has taught him to take his time and think of his strategies," Christina said.
Other Meadows School pupils who participated in the tournament were Cameron Brown, who competed in the seventh-grade level, and Kathryn Gibson, who competed in the fourth-grade level.
Report by Madelon Hynes, Las Vegas Review Journal, December 20th, 2005