The first Nevada State Girls' Scholastic championship took place today at our center. After five rounds Samira Prieto finished in first place with four points, tied in second to 5th places Nare Khachatryan (a great performance by Nare, she defeated the highest player in the tournament and current High School champion Naomi),  Shemmei Wu, Naomi Santiago, and Jan Stephanie De Leon, all with 3.5. Stephanie took the trophy for the best Under 800 section. Shanti and Riya from Clarence Piggott Elementary took the best team trophy.
Congratulations, and thank you to the players and the parents for making this great event possible.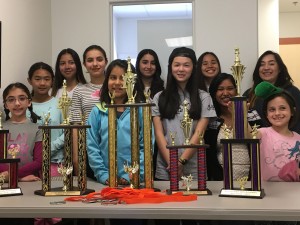 Next Saturday , March 25th, the State Scholastic 2017 will take place at the Las Vegas day School, over 200 players are already registered online so far.
-----------------------------------------------------------------------------
 Pair | Player Name                     |Total|Round|Round|Round|Round|Round| 
 Num  | USCF ID / Rtg (Pre->Post)       | Pts |  1  |  2  |  3  |  4  |  5  | 
-----------------------------------------------------------------------------
    1 | SAMIRA PRIETO                   |4.0  |W   8|W   6|D   2|W   4|D   3|
   NV | 15615775 / R: 1687   ->1677     |     |W    |B    |W    |B    |W    |
      |            Q: 1561   ->1547     |     |     |     |     |     |     |
-----------------------------------------------------------------------------
    2 | NAOMI YOALI SANTIAGO            |3.5  |W   9|W   7|D   1|L   3|W   6|
   NV | 14940503 / R: 1834   ->1800     |     |B    |W    |B    |W    |W    |
      |            Q: 1622   ->1585     |     |     |     |     |     |     |
-----------------------------------------------------------------------------
    3 | NARE KHACHATRYAN                |3.5  |D   5|W  11|D   4|W   2|D   1|
   NV | 15380196 / R:  905   ->1021     |     |B    |W    |W    |B    |B    |
      |            Q:  902   ->1011     |     |     |     |     |     |     |
-----------------------------------------------------------------------------
    4 | SHENMEI WU                      |3.5  |W  12|W   5|D   3|L   1|W   7|
   NV | 15682614 / R:  895   -> 939     |     |B    |W    |B    |W    |B    |
      |            Q:  853   -> 910     |     |     |     |     |     |     |
-----------------------------------------------------------------------------
    5 | JAN STEPHANIE DE LEON           |3.5  |D   3|L   4|W  11|W  10|W   8|
   NV | 14858211 / R:  648   -> 743     |     |W    |B    |W    |W    |B    |
      |            Q:  640   -> 734     |     |     |     |     |     |     |
-----------------------------------------------------------------------------
    6 | HANNA O-LEE                     |3.0  |W  11|L   1|W  10|W   8|L   2|
   NV | 15021181 / R:  631   -> 707     |     |B    |W    |B    |W    |B    |
      |            Q:  625   -> 700     |     |     |     |     |     |     |
-----------------------------------------------------------------------------
    7 | SHANTI ISAAC                    |2.0  |W  10|L   2|L   8|W   9|L   4|
   NV | 15795205 / R:  709   -> 669     |     |W    |B    |W    |B    |W    |
      |            Q:  699   -> 659     |     |     |     |     |     |     |
-----------------------------------------------------------------------------
    8 | SHIWANI LYLE                    |2.0  |L   1|W  12|W   7|L   6|L   5|
   NV | 14569333 / R:  580   -> 597     |     |B    |W    |B    |B    |W    |
      |            Q:  571   -> 587     |     |     |     |     |     |     |
-----------------------------------------------------------------------------
    9 | EISLEY DEWALD                   |2.0  |L   2|L  10|W  12|L   7|W  11|
   NV | 16234288 / R:  149P23-> 284     |     |W    |B    |W    |W    |B    |
      |            Q:  149P23-> 282     |     |     |     |     |     |     |
-----------------------------------------------------------------------------
   10 | LEAH HERNANDEZ                  |1.5  |L   7|W   9|L   6|L   5|D  12|
   NV | 15811720 / R:  131   -> 225     |     |B    |W    |W    |B    |W    |
      |            Q:  131   -> 223     |     |     |     |     |     |     |
-----------------------------------------------------------------------------
   11 | RIYA SHROFF                     |1.0  |L   6|L   3|L   5|W  12|L   9|
   NV | 15969837 / R:  637   -> 553     |     |W    |B    |B    |B    |W    |
      |            Q:  634   -> 548     |     |     |     |     |     |     |
-----------------------------------------------------------------------------
   12 | ISABEL SANCHEZ                  |0.5  |L   4|L   8|L   9|L  11|D  10|
   NV | 16210460 / R:  636P6 -> 427P11  |     |W    |B    |B    |W    |B    |
      |            Q:  627P6 -> 420P11  |     |     |     |     |     |     |
-----------------------------------------------------------------------------